DID in VoIP: A Key to Hassle-free Caller Experience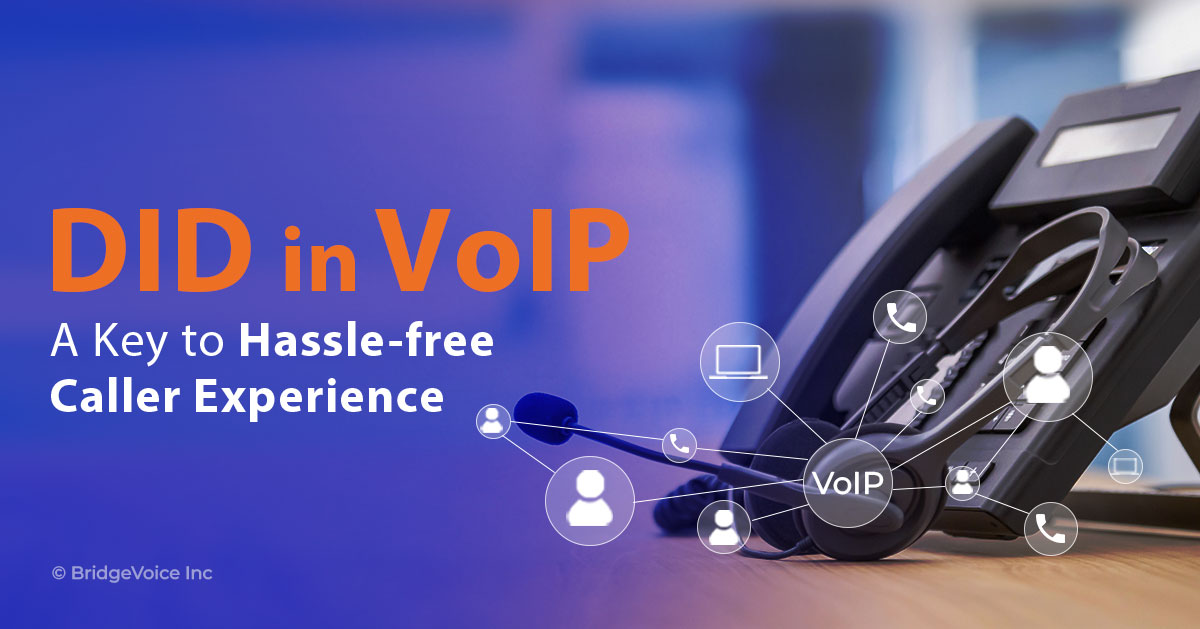 A person must go through an automated phone menu and human receptionist whenever they try to contact any individual within a business. This shows that the company hasn't configured its DID yet.
Thousands of employees and hundreds of trunk lines spell it expensive and impractical to purchase and assign a dedicated phone number for each employee. The multiple lines of a PBX (Private Branch Exchange) system allow customers to reach anyone in an office through a single number. Still, callers must be routed to their desired destination by a receptionist or an automated system. What if the caller needs to reach personnel directly? This is where DID number providers play a pivotal role.
Direct Inward Dialing numbers or DIDs have been used for decades. DIDs in business phone systems allow customers to contact a particular person or department directly. DID services may not be new, but when used with modern VoIP systems, business communication becomes efficient, hassle-free, cost-effective, and more flexible.
Direct Inward Dialing and Inbound Service
Direct Inward Dialing is a feature in a business phone system or telecommunication platform that connects a block of telephone numbers to the company's PBX or VoIP phone systems. DID number providers let organizations assign virtual phone numbers to each employee without setting up a separate phone line.
Businesses can set up DID numbers using local, premium-rate, or toll-free numbers by specific departments, employees, or teams. A DID number looks like any regular telephone number, a shortcut that routes inbound calls directly to an individual or an extension in the company.
How does Direct Inward Dialing Work on VoIP Systems?
Most businesses use VoIP phone systems that allow calls over the internet, not requiring physical lines or in-office hardware. Companies can employ direct-dial numbers with the help of Session Initiation Protocol or SIP trunking. Trunk line connections are virtual links that SIP makes available when the business requires them.
A software application that links numbers to your extensions can configure these virtual links internally. Unlike old-school PBX, which requires the physical allocation of new phone lines, DID on VoIP is highly scalable.
For instance, a company needs 20 new trunk lines for the new hires or a seasonal staff for a new campaign you're launching next month. The company can add DID numbers for each new employee and manage them using a software interface. There is no need to contact your DID service provider to install extra physical trunk lines to your PBX.
Cost Savings
DIDs minimize the number of 'trunks' required as no call transfer is required. With VoIP-based DID services, you can forward calls to multiple offices across continents at local and competitive pay-per-minute rates. Direct-dial ins occur virtually on the telephone network, which means no overhead costs for new equipment.
Furthermore, companies can save on office property costs by deploying sales offices at strategic locations around the globe using DIDs. DID numbers with local area codes will act as overseas offices that will direct calls to the company's existing support staff.
Better Caller Experience
Customers can reach the right person without the inconvenience of waiting in queues or being transferred several times. Automated features built into advanced VoIP systems like automatic call distribution and call forwarding enhance the caller experience by connecting the call on the first try within the shortest waiting time.
While acquiring a new telephone number, the service provider would usually offer the next available sequential number. In contrast, DID number providers give access to a wide variety of memorable, vanity and toll-free call-back numbers that can help businesses retain more customers with increased answer rates.
Easy Time Zone Hopping
Using automated call forwarding, you can set DIDs to forward calls to the right location based on the time of the day and staff availability. Such time settings come in handy when the companies have support teams and service reps working from different time zones.
It also allows the flexibility of showing local CLI (calling line identification) for long-distance calls because people prefer answering calls from local numbers over international ones. Thus, opening an office to boost sales in a new country without needing actual property and employees in that location.
Flexibility
Employees can set up their direct-dial line to automatically forward incoming calls to their mobile phone, laptop, or desk phone, without the customer knowing their private phone numbers. This way, a business can have total control over the incoming calls.
Businesses can customize their telecommunication system to fit their specific needs by combining the power of DID, VoIP, SIP, and ACD with the right carrier platform. DID services are highly competent with modern VoIP systems that enable hassle-free communication through:
Spam call blocking
Unified Communication across all channels
Call recording
Call forwarding
Multi-device ring
Call parking
Ring groups
Intercom calling
DID numbers also encourage team collaboration among employees of an organization no matter where they are situated. DID's dedicated extensions allow coworkers to share information efficiently via instant messaging, team chats, video meetings, and screen-sharing on web portals or mobile apps.
Tracking Marketing Campaigns
DID can be instrumental when you need to track any sales or marketing campaigns. You can assign separate DID numbers for different campaigns. DIDs on an advanced VoIP system makes it possible to accurately track the performance of each campaign based on call answer rate, location, etc.
Improved Brand Image
Different types of business DID numbers help companies build a good rapport with customers. Here are the ways DIDs boost brand reputation:
Local DIDs with a recognizable prefix help establish a business in a particular area.
Mobile DIDs maximize customer engagement with two-way communication.
Toll-free DIDs create a reliable and trustworthy impression of your business among customers as it encourages them to reach you no matter the reason.
Non-geographical DIDs generate trust and reliability for companies with a national presence, making them reachable across the country at the same cost.
Vanity numbers reflect the professional image of the business.
Intuitive User Interface for DID Management: DID number providers offer their services through an advanced hosted platform, which users can access through the intuitive interface of a web portal or mobile app. The interface allows immediate purchase and activation of DID numbers with just a few clicks.
Businesses can use this portal to manage DID numbers across all the purchased concurrent channels. The interface also facilitates in-depth analysis and statistics to evaluate crucial metrics, such as destination, duration, monthly cost, answer-seizure ratio, first call resolution rate, and more.
Get your Business DIDs to Enjoy a Hassle-free Phone Experience
DID not only make it easier for customers to reach out to you but also takes the extra burden off the employees. If you manage calls from partners, prospects, and not just customers, then DID is the natural step forward. Combining DIDs with a VoIP system can help you unlock the full potential of a communication platform.
BridgeVoice Pluto offers virtual numbers with an advanced hosted system that gives you full control over incoming calls.