Top 5 Reasons to Switch to VoIP System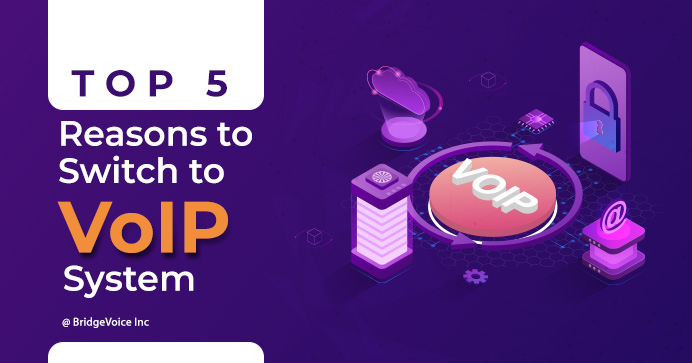 VoIP (Voice over Internet Protocol) is a system that connects calls over the internet. VoIP phone systems are cheaper and more flexible than landline-based telephone systems. Influenced by its reliability, price, and features, 61% of businesses are considering switching to VoIP systems.
VoIP call termination is routing of telephone calls from one provider to the next provider the recipient receives it. If the system terminates the sound over IP, it is called VoIP termination service. The voice traffic can also be terminated via a public switched telephone network (PSTN) if the caller is communicating with a landline number or a mobile network carrier. Here, VoIP acts as a switch between an IP-based system and the PSTN network.
Types of VoIP Termination Providers
There are different VoIP termination providers for managing VoIP networks. Voice carriers fall into three broad categories:
Tier 1 carriers are registered operators who can handle the call and termination by themselves with their infrastructure and a network comprising direct connections between all points. They usually have peering agreements with tier 2 carriers and sometimes tier 3 carriers, but they always prioritize their traffic first.
Tier 2 carriers are unregistered providers who mainly lease services of tier 1 carriers. However, they might have their infrastructure in certain regions. They maintain direct connections with several tier 1 providers to route the calls through the best-suited carrier based on when and where it occurs.
Tier 3 carriers are the niche providers who offer financially attractive options for businesses that require handling large-volume calls worldwide. They lease services from multiple tier 1 or tier 2 carriers to host their customers' calls.
Top Reasons Businesses Use VoIP Termination Services
Local CLI (Calling Line Identification) for International Calls
Making people answer your calls can be quite difficult when companies are targeting international markets. VoIP provides businesses with the ability to use local voice termination during outbound calls. Recipients are more likely to answer calls when it's a familiar area code calling them.
Increased Call Coverage
VoIP offers greater call coverage than traditional phone services by allowing access to a wider variety of vanity phone numbers. It also covers app-based numbers, PBX-based lines, and accounts within unified communication platforms like Microsoft Teams. VoIP termination providers usually offer outbound calls to all available countries at competitive wholesale rates.
Lower Cost
VoIP termination rates are more affordable than PSTN-based services. This is especially true for companies that qualify for wholesale VoIP call rates. Unlike add-ons, most of its features like guaranteed CLI, roaming, call forwarding, and voicemail are included in the price of your VoIP package. This makes it even more cost-effective for emerging operators and SMEs.
Ease of Installation
VoIP phone systems are easy to install and much easier to work with. It doesn't require the setting up of special equipment, wiring, or a plethora of new components. It can be installed and handled by anyone with very little technical knowledge, reducing the company's headcount requirements.
Enables Unified Communications
VoIP enables a unified communications approach by allowing the integration of various technologies. This approach allows businesses to introduce multichannel support. Synced VoIP systems on UC platforms increase productivity with seamless communication. It was found that organizations with UC saved an average of 32 minutes daily per employee just because they could reach one another on the first try.
Selecting the Right Wholesale VoIP Termination Provider for Your Business
Here are some tips you can follow while choosing a VoIP termination provider:
Consider what you want from your VoIP system depending on your requirements. Do you need functionalities like re-routing of calls, voice menus, 3-way calling, and queueing? Do you want a VoIP system integrated with your CRM software?
You can easily choose a VoIP package after having a clear view of your business' demands. You can compare similar packages from different providers to evaluate which provider offers QoS at an optimum cost.
Service reliability and customer support are essential because even a short outage can impact your sales, credibility, and profitability. Companies must check SLA for problem resolution time limits, support levels, and service guarantees.
Check the availability of local area codes for outbound calls if required. Most VoIP termination providers have a complete list of rates for their A-Z VoIP termination, where you can look for your target countries.
Offer Premium Quality VoIP Calls to Your Customers around the Globe with Us
VoIP termination integrates well with your company's communications systems and provides essential services in one cohesive package. Wholesale VoIP partnerships especially enable the most affordable call rates a vendor could offer. With the emerging trends of UC, it is the best time to adopt VoIP to reap its many benefits.
BridgeVoice Pluto is a wholesale VoIP trading platform that helps VoIP providers to offer high-end termination services across the globe at competitive rates.