Overhauling Enterprise Communication with UCaaS

Every business needs advanced tech support to communicate internally and externally to stay ahead of the curve and to be competitive, regardless of their size or industry. Enterprises can meet the growing requirement for multi-device accessibility across platforms with a seamless technology integration. In the past, it was always tough to find the perfect enterprise communication solution. Today, communication services have expanded through instant messaging apps, video conferencing, and even virtual desktops. The ideal framework for communications must not be expensive and difficult.
The Unified Communications is a comprehensive package of cloud-based services, also known as UCaaS, that has streamlined businesses, and transformed the communications sector with easy collaboration opportunities.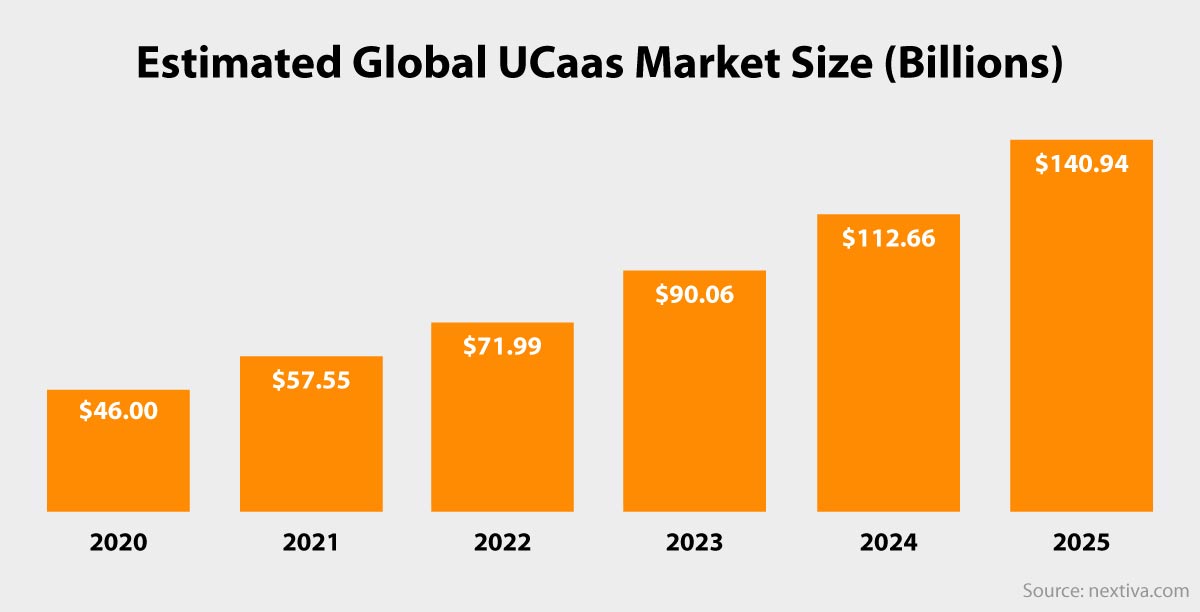 The UCaaS market has been growing steadily in recent years, while traditional telecom systems lose relevance. Due to various technical capabilities of the cloud system, companies rarely return to analog after migrating. Some experts predict the UCaaS market to grow over 100 billion dollars by the year 2025 as the local phone systems continue to witness a huge collapse.
Let's discover the top benefits of UCaaS that can deliver a secured, flexible collaboration and communication ecosystem.
Actionable Data Insights
UCaaS provides communication data analysis solutions that allow enterprises to enhance efficiency by highlighting aspects that are required to optimize their workflows. Any access to insights into the activities and patterns of employee communication allows a company the flexibility to make faster strategic decisions. Such actionable analysis also helps businesses to reduce their expenses, manage tools properly, and use the correct channels to benefit their staff and customers.
Cost-efficient
UCaaS doesn't require significant investment, it is an operating expense that may potentially cut other unnecessary expenses. The model carriers per user and device are typically more economical and enable billing to be simplified worldwide across all places. This decreases admin staff's dependence on the settlement of billing complications.
Easy Collaboration
Functions such as video calling, chatting, and screen sharing on one platform make it easier to collaborate in a visual and engaging manner. UCaaS also makes it simpler to integrate the existing system with other cloud applications, which helps businesses to develop customized workflows with enhanced efficacy and improved internal communication channels.
Adaptability
Business needs are volatile, and the pandemic has already forced organizations to evolve in a fast-paced environment. Cloud-based UCaaS enables business continuity amid crisis, allowing quick access to business databases, adaptable integration option, and total remote functionality.
Minimize Silos
With hybrid deployments becoming more prevalent, siloed information is a major risk to employees working in various environments. If the employees working in the office have different tools for people working remotely, then it can result in workflow blockages and even in disengaged workgroups.
UCaaS establishes the communications into a unified framework so that each individual has a common communication ecosystem. If all interactions and information are positioned at the same location, the team stays well-connected and will not end up wasting time looking for the information they require.
The Future of UCaaS in Mainstream
The emphasis in 2021 is on digital communication and collaboration. With a widening focus on health safety amid the pandemic, individuals and organizations have shifted to video and audio-conferencing systems to improve workflows and uphold operational efficiency. Therefore, the need for a single communication system integrating voice, video, and data channels is increasing with businesses looking at the unlimited potential of emerging digital technology alternatives for physical gatherings and events.
By integrating a variety of capabilities across integrated telephone systems, top unified communication solution providers will assist new-age businesses in increasing business efficiency. The variety of unified communication features include caller ID, voicemail, call recording/forwarding/scheduling, call hunting and masking, and Direct Inward Dialing services (DID).
The Bottom Line
Enterprises of all sizes face unparalleled challenges in the new age of communication. Customers require a variety of accessible, seamless user experience channels. For many companies, UCaaS is the correct solution to address these challenges. It provides adaptable, optimized cloud-based communication tools and reduces the costly multiplicity of communication tools to offer effective communication, collaboration, and mobility.
BridgeVoice Pluto offers a built-in VoIP service that enables a call to terminate DID that is mapped to a specific phone rather than a dropdown or extension. With our value-added service, SMBs, enterprises, ISPs, and ITSPs can easily construct, personalize, run, and manage complete VoIP solutions. We offer a range of impactful features such as voicemail, conference calls, automated greetings, and call logs to help our clients with reduced infrastructural expenditure.
Naishil Jha
Naishil is a Content Writer at Panamax with rich exposure in the field of Creative Content, Marketing Communications and Branding. His academic background is in Mass Communication and Journalism and has been working on varied content pieces. He can be found, reading about Cricket, performing street photography and cooking some delicious food in his leisure time.